Frieden and Frida: A retrospective on the struggles of a legend
Mexican self-taught artist Frida Kahlo is remembered for her uncompromisingly vibrant self-portraits. Her depiction of life, the human body, and the struggles she had to go through turned her into one of the greatest artists to have ever emerged from Mexico. She is celebrated in Mexico for her attention to the Mexican and indigenous cultures and feminists for depicting the female experience and form. She is often identified as a Surrealist, despite her openly stating otherwise. Apart from her work, her turbulent relationship with muralist Diego Rivera was well known as well.
Childhood and Accident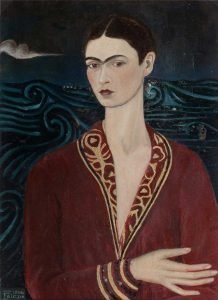 Kahlo was born on July 6, 1907, in Coyoacan, Mexico City to a German father and a Mexican mother. As she grew up, she explored her identity by frequently depicting her ancestry as binary opposites: the colonial European side and the indigenous Mexican side. Despite not being entirely of Mexican origins, she often told people she was born in 1910, 3 years after her actual birth so that people would directly associate her with the Mexican Revolution that began in 1910. Kahlo eventually became an embodiment of Mexican culture, especially indigenous culture. She suffered from polio as a child, which left her with a pronounced limp, a chronic abnormality she would endure throughout her life.
While at school, Kahlo hung out with a group of politically and intellectually like-minded students. Becoming more politically active, Kahlo joined the Young Communist League and the Mexican Communist Party.
In 1925, Kahlo got involved in a bus accident, where a metal handrail impaled her. As a result, she sustained several serious injuries, including fractures in her spine and pelvis. That injured her so severely that in her lifetime, Kahlo had to undergo more than 30 surgeries. Kahlo taught herself to paint during her long recovery. After spending a few weeks at Red Cross Hospital in Mexico City, she returned home to recuperate further. During her recovery, she began painting and completed the painting "Self-Portrait in a Velvet Dress" the following year in 1926.
Love & Pain: Marriage with Diego
In 1929, Kahlo married the prominent Mexican muralist Diego Rivera. Kahlo and Rivera met for the first time in 1922 when he went to work on a project at her high school. Kahlo often watched Rivera as he worked on a mural called "The Creation" in the academy's lecture hall. Later, she reconnected with Rivera in 1928. He encouraged her artwork, and the two of them began a relationship. She was 18, and Rivera was 30 at the time of their relationship. During their early years, they often traveled to places together as Rivera received commissions throughout Mexico and the United States. They resided in San Francisco, California, in 1930. They then moved to New York City for Rivera's exhibition at the Museum of Modern Art and then traveled to Detroit for Rivera's commission at the Detroit Institute of Arts. Kahlo adapted her personal and art style shortly after marrying Rivera in 1929. She began wearing the traditional Tehuana dress, which became her trademark. It consisted of a floral headdress, a loose blouse, gold jewelry, and a long-ruffled skirt.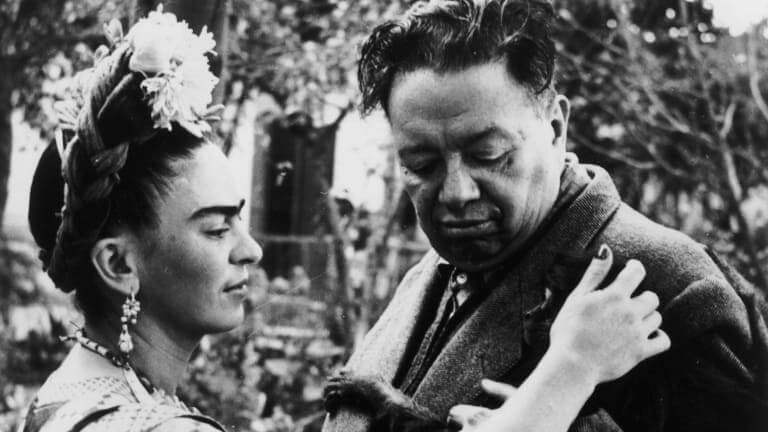 Her painting 'Frieda and Diego Rivera' (1931) reveals her new attire and new interest in Mexican folk art. This time, her painting subjects seem flatter and more abstract compared to those of her previous work. Towering on the left is Rivera, holding a palette and brushes, items symbolizing his profession. He appears as a glorified, magnificent artist. Kahlo, who is petite and demure beside him, with her hand in his and darker skin than in her earlier work, conveys the role she presumed he wanted: a traditional Mexican wife.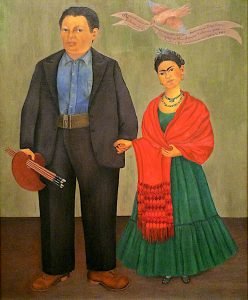 The duration of Kahlo and Riveras stay in New York City in 1933 was surrounded by controversy. Commissioned by Nelson Rockefeller, Rivera painted a mural called 'Man at the Crossroads' in the Rockefeller Centers' RCA Building. Rockefeller halted the project's work after Rivera included a portrait of communist leader Vladimir Lenin in the mural, which was later painted over. Months after this incident, the couple returned to Mexico and lived in San Angel, Mexico.
During their time in the United States (1930-1933), Kahlo endured a couple of complicated pregnancies that ended prematurely. After suffering a miscarriage in Detroit and later her mother's death, she painted some of her most-harrowing works. In 'Henry Ford Hospital' (1932), Kahlo depicted herself hemorrhaging on a hospital bed amid a barren landscape. In 'My Birth' (1932), she painted a somewhat taboo scene of a shrouded woman giving birth.
Never a conventional marriage, Kahlo and Rivera kept separate but adjacent buildings and studios in San Ángel. She was appalled by his many infidelities, including an extramarital affair with her sister Cristina. In reaction to this familial betrayal, Kahlo cut off much of her iconic long dark hair. Desperately wanting to conceive a child, she experienced heartbreak when she miscarried in 1934.
Kahlo and Rivera went through phases of separation, but in 1937, they came together to help the exiled Soviet communist Leon Trotsky and his wife, Natalia. Fearing assassination by his former rival, Soviet leader Joseph Stalin, the Trotskys sought refuge at the Blue House, Khalo's childhood home, after being given asylum in Mexico. During this time, Kahlo and Trotsky allegedly had a short affair.
In 1939, Kahlo divorced Rivera. However, they didn't stay separated for much longer and remarried in 1940. The two continued to lead relatively separate lives, both becoming associated with other individuals over the years.
Surrealism and Reality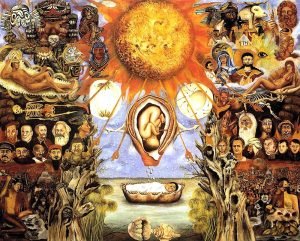 Although Kahlo never really called herself a surrealist, her work caught the eyes of the prominent surreal artist, Andre Breton in 1938, who championed her work. She had a major exhibition at the Julien Levy Gallery in New York the same year, selling almost half of the 25 paintings exhibited there. Kahlo also received two commissions after the show, one of which was from the famous magazine editor Clare Boothe Luce.
Kahlo then moved to Paris for a while in 1939, where she exhibited some of her paintings and met artists like Marcel Duchamp and Pablo Picasso. She was commissioned by the government of Mexico in 1941 to do five portraits of important Mexican women, a project she failed to complete due to the mental trauma of losing her beloved father and as well as her chronic health problems the same year. Her work continued to grow in popularity amid her struggles and was included in several group shows during this time.
Frida participated in the "International Exhibition of Surrealism" in 1940 at the Galeria de Arte, Mexicano, where she exhibited two of her largest paintings: "The Two Fridas" and "The Wounded Table." Fascinated by her work, Surrealist Andrew Breton called Kahlo a surrealist, a label which she always turned down.
"They thought I was a Surrealist, but I wasn't. I never painted dreams. I painted my own reality."

-Frida Kahlo
However, in 1945, upon Don Jose Domingo Lavins' insistence on reading the book "Moses and Monotheism" by Sigmund Freud – whose psychoanalysis works Surrealism is based on – and paint her understanding and interpretation of this book, Frida created the painting titled 'Moses', which was later recognized as second prize at the annual art exhibition in the Palacio de Bellas Artes.
Kahlo did not sell many paintings in her lifetime, although she painted occasional portraits on commission. In 1953, she did her first solo exhibition in Mexico. While bedridden at the time, Kahlo did not want to miss out on the exhibition's opening. Arriving by ambulance, she spent the evening talking and celebrating with the event's attendees from the comfort of a four-poster bed set up in the gallery just for her.
Interestingly, Fridas' face is on the 500 peso bill as well as her partner Diego Rivera, two of the country's most celebrated artists and personalities. The 500 peso bill was released to mark the centennial of the Mexican Revolution and contains the Diego Rivera quote written in tiny script:
"It has been said that the revolution does not need art, but that art needs the revolution. That is not true. The revolution needs revolutionary art."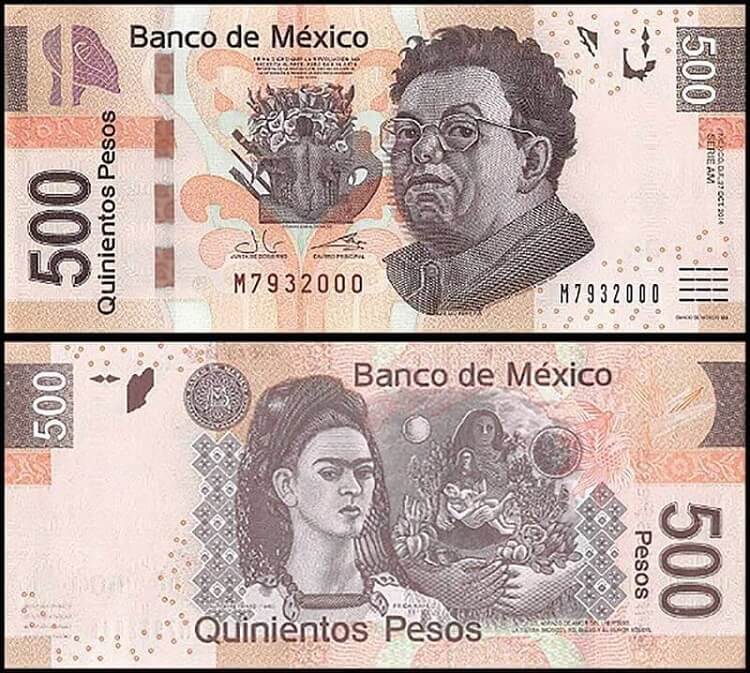 Frida was a central figure in the Neomexicanismo Art Movement in Mexico which emerged in the 1970s. Her art has been called folk art due to traditional elements, and some call it Surrealist though Kahlo herself has said otherwise. Today, her works sell for very high prices. In May 2006, Frida Kahlo self-portrait, Roots, was sold for $5.62 million at a Sotheby's auction in New York, sets a record as the most expensive Latin American work ever purchased at auction, and also makes Frida Kahlo one of the highest-selling female artists in history.
Master of Self-portraits
Life experience is a common theme in Kahlo's approximately 200 paintings, sketches, and drawings. Her physical and emotional pain are depicted starkly on canvases, her tumultuous relationship with her husband, fellow artist Diego Rivera.
Her first self-portrait, "Self-Portrait in a Velvet Dress," was painted in the style of 19th Century Mexican portrait painters who themselves were greatly influenced by the European Renaissance masters. She also sometimes drew inspiration from the Mexican painters in her use of a background of tied-back drapes. Self-Portrait – "Time Flies" (1929), "Portrait of a Woman in White" (1930), and "Self-Portrait Dedicated to Leon Trotsky" (1937) all resemble this background. In her second-self portrait, "Time Flies," Kahlo opted for a folk art style and vibrant colors. She wears peasant clothing, and the red, white, and green in the painting are the colors of the Mexican flag.
During her life, the self-portrait is a subject that Frida always seemed to return to, as artists have always returned to their beloved themes – Vincent van Gogh his Sunflowers, Rembrandt his Self Portrait, and Claude Monet his Water Lilies.
I paint self-portraits because I am so often alone because I am the person I know best."

– Frida Kahlo.
'Frieda and Diego Rivera' (1931)
Kahlo showed this painting at the Sixth Annual Exhibition of the San Francisco Society of Women Artists, the city where she lived with Rivera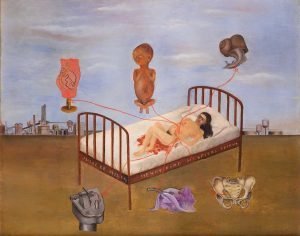 at the time. In the painting, made two years after the couple married, Kahlo lightly holds Rivera's hand as he grasps a palette and paintbrushes with the other. The work now resides at the San Francisco Museum of Modern Art.
'Henry Ford Hospital' (1932)
In 1932, Kahlo incorporated graphic and surrealistic elements in her work. In this painting, a naked Kahlo appears on a hospital bed with several items — a fetus, a snail, a flower, a pelvis, and others — floating around her and connected to her by red, veinlike strings resembling umbilical cords. As with her earlier self-portraits, the work was deeply personal, telling the story of her second miscarriage.
'The Suicide of Dorothy Hale' (1939)
Kahlo was asked to paint a portrait of Luce and Kahlo's mutual friend, actress Dorothy Hale, who had committed suicide earlier that year by jumping from a high-rise building. The painting was intended as a gift for Hale's grieving mother. Rather than a traditional portrait, however, Kahlo painted the story of Hale's tragic leap. While critics have heralded the work, its patron was horrified at the finished painting.
'The Two Fridas' (1939)
Shortly after her divorce from Rivera, she painted one of her most iconic painting, The Two Fridas. The composition depicts the two halves of her identity sitting side by side, with both hearts exposed. On the left, the German Frida wears a distinctively European white dress. On the right, the Mexican Frida is outfitted in a traditional Tehuana dress. Both of them bear their heart, while the German Frida cut hers wide open and bleeds freely on her white dress; this is the Frida that Rivera has said to have rejected.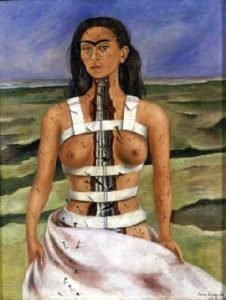 'The Broken Column' (1944)
Kahlo shared her physical challenges through her art again with this painting, which depicted a nearly nude Kahlo split down the middle, revealing her spine as a shattered decorative column. She also wears a surgical brace, and her skin is studded with tacks or nails. Around this time, Kahlo had several surgeries and wore special corsets to try to fix her back. She would continue to seek a variety of treatments for her chronic physical pain with little success.
My painting carries with it the message of pain.

– Frida Kahlo.
End of Time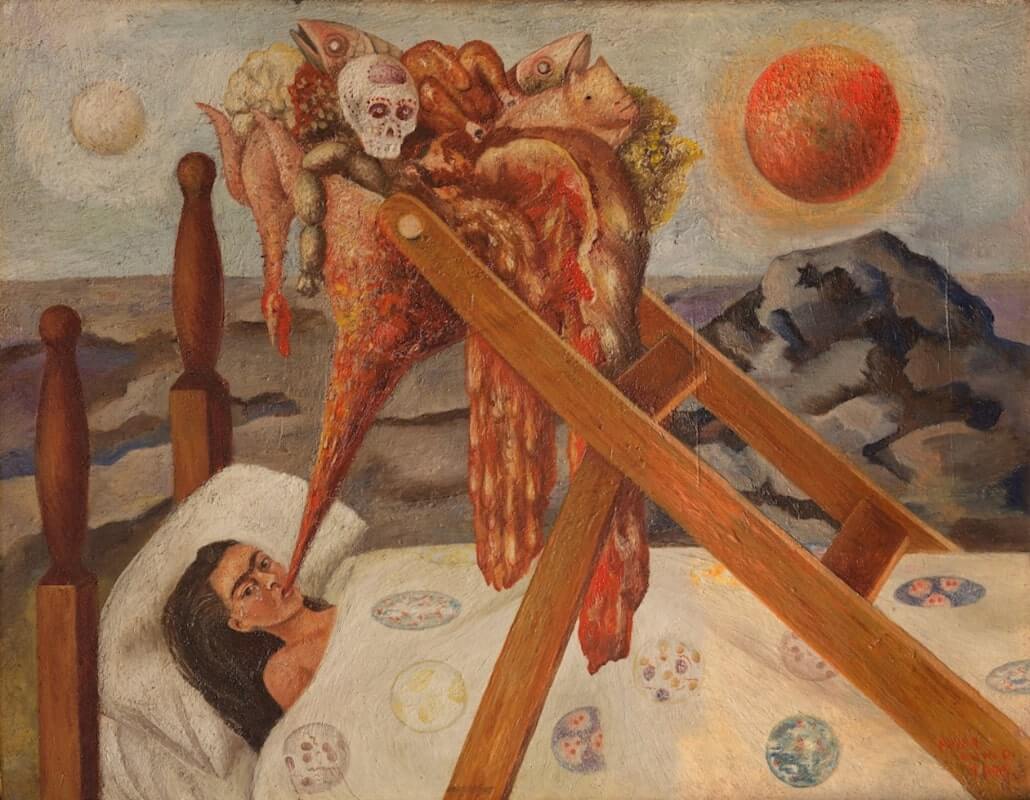 After undergoing countless surgeries due to her dire sickness, she suffered from a lack of appetite and eventually became extremely thin and malnourished. As a result, she was prescribed to complete bed rest and a forced fattening diet of pureed food every two hours. In 1945, she created a piece titled 'Without Hope' depicting her helplessness in that situation. In the painting, we see a bizarre mess of unappetizing food with animals and skulls held by the wooden structure, which used to hold her canvases for painting. Her arms pinned underneath, giving us a glimpse of how helpless she felt. The background is a deserted Mexican landscape showing both the sun and the moon. At the back of the painting, she wrote, "Not the least hope remains to me…Everything move in time with what the belly contains."
During the 1950s, Kahlos' health declined to the point where the chances of recovery became close to zero. She spent nine months in the hospital after being diagnosed with gangrene in her right foot and underwent multiple surgeries during this period. Part of her right leg had to be amputated in 1953 to prevent the spread of gangrene. After succumbing to depression due to her health decline, she was hospitalized again for allegedly attempting suicide in 1954. She was hospitalized again two months later due to bronchial pneumonia.
Despite her worsening physical condition, Kahlo did not let that stand in the way of her political activism. She continued to paint and support political causes despite having limited mobility. Her final public appearance was a demonstration against the U.S.-backed overthrow of President Jacobo Arbenz of Guatemala on July 2.
About a week after her 47th birthday, Kahlo died on July 13, 1954, at her beloved Blue House (La Casa Azul). There has been some speculation regarding the cause of her death, as some claimed she died of a pulmonary embolism while others consider the case of a possible suicide. After Kahlo's death, La Casa Azul was redesigned as a museum dedicated to her life. The Frida Kahlo Museum in Mexico City opened to the public in 1958, a year after Rivera's death. At the Museum, artifacts from the artist, along with essential works including 'Viva la Vida' (1954), Frida and Caesarean (1931), and 'Portrait of my father Wilhelm Kahlo' (1952), are on display throughout the house. Kahlo was born and raised in this very building, whose cobalt walls gave way to the Blue House's nickname. She spent a substantial amount of her life there and the same place where she drew her last breath. The facility is the most famous Museum in the Coyoacan neighborhood and among the most visited in Mexico City.
The Diary of Frida Kahlo, covering the years 1944–54, and The Letters of Frida Kahlo were published in 1995. While Kahlo had enjoyed success as an artist in her lifetime, her posthumous fame continued to rise in the 1970s and reached what some critics called "Fridamania" by the 21st century. She is perhaps one of the most famous artists of the 20th century. The dramatic aspects of her life including her crippling injury from the bus accident, the turbulent marriage, the sensational love affairs, and the heavy alcohol and drug abuse inspired several books, movies and documentaries in the decades that followed her demise.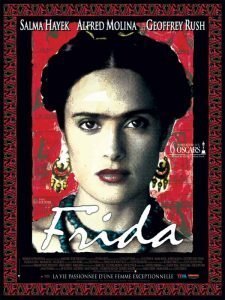 Numerous articles, books, and documentaries have been made about Kahlo's life and art, including a 2002 film entitled Frida, starring Salma Hayek as the artist and
Alfred Molina as Rivera. Directed by Julie Taymor, the film was nominated for six Academy Awards and won for Best Makeup and Original Score as well as Hayden Herrera's 1983 bestseller on Kahlo, Frida: A Biography of Frida Kahlo, helped to stir up interest in the artist. The biographical work covers Kahlo's childhood, accident, artistic career, marriage to Diego Rivera, association with the communist party, and love affairs.
In 1939, the Louvre bought Kahlo's The Frame, making it the first work by a 20th-century Mexican artist to be purchased by an internationally renowned museum. Despite such an accomplishment, Kahlo was still known most of her life, and the 20th-century, as the wife of Diego Rivera, whom she married in 1929. Since the 1980s, though, Kahlo has been known for her merit.
Widely known for her Marxist affiliations, Frida, along with Marxism Revolutionary Che Guevara and a select number of individuals, has become a counter-cultural icon of the 20th century, producing an art historical legacy that continues to stimulate creativity and mind. The recognition Khalo received in her brief lifetime extended far beyond Mexico's borders, transcending the boundaries of prejudice and patriarchy itself. Today she is considered one of the greatest female artists in history and the world loves her for who she is, her both sides, and not for whom she was associated with.